Small Business Safety Checklist
Periodically review your work locations using a safety checklist. The steps you take to prepare and prevent accidents at your worksite can help keep your employees safe and reduce your workers' compensation costs.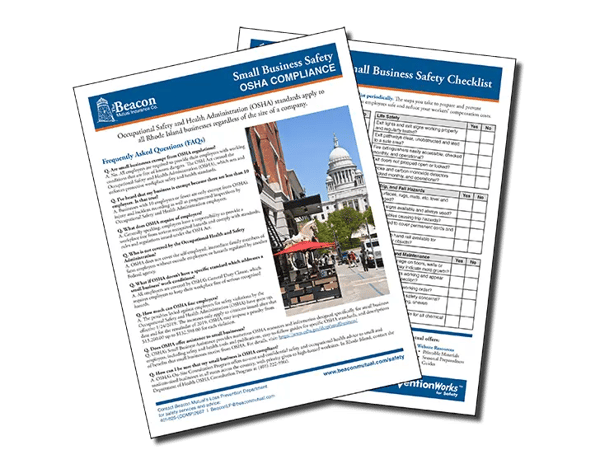 Why does safety matter for small businesses?
Every small business has some element of risk in the workplace and as a business owner, it is your responsibility to understand those unique hazards and reduce the risk of an accident.
Your employees are your most valuable resource and without them, you won't be able to maintain the workload that your team currently handles. You should make sure that they are able to stay at work and if an injury occurs, get them back to work quickly.
All businesses of every size must comply with OSHA standards. This means that you are required to educate your employees about the hazards that exist and take the appropriate measures to keep them safe. This may be as simple as labeling cleaning products or ensuring that safety glasses are worn by your employees.
Visit Beacon Mutual's Small Business page for more information.
Complete the form to download the small business safety checklist with OSHA frequently asked questions.